Well it was bound to happen sooner or later.
The Paris office, our apartment in the 7th, is closing – and with it our monthly trips to Paris for real city life and my regular appointment at Franck Provost, hairdresser to the stars, in the rue de Sèvres.
The determining factor was tenant or client…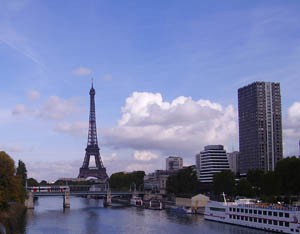 When we bought our first Paris property in francs (that shows how long ago it was now) we thought the City of Light might open new doors for business. And after all, my French is not too bad. I can converse comfortably with taxi drivers and loss adjusters even though I may struggle to hold my own at the zinc in a discussion on existentialism or 20th century French lit, with a few stops in between.
The rules of our Copropriété (like a resident's association, but a properly constituted legal entity) allow us to run a business from the flat, provided it's respectable – no escort agencies or mail order fetish-wear then.
We thought there might be French businesses wooed by commercial opportunities in the land of the Auld Alliance, particularly with a Scottish Parliament, and frequent flights for as little as 2p between Prestwick and Beauvais, where I have slept on the airport floor. Well you can't really complain at that price.
Whether trams, or food, or agriculture, or even field sports, there would be something for us surely.
We were also in demand with dropped hints from different quarters about needing somewhere to stay in Paris and might the flat be suitable. In all honesty, and while it is small, there has always been something that hasn't been quite right and which needs to be fixed – damp to sort, a crack to fill, a wall to paint, a window to 'decoller'.
But now the die is cast and we are looking for a tenant. Our Paris home/office may not be ours to enjoy for much longer – in fact that's already the case since we vacuumed our way out of the door, handed over the keys and its availability was posted on our agent's website.
We already have a young South American businessman in residence in our apartment in the 18th. His third year as our tenant starts this November. His rent has never been late.
Let's hope that whoever moves in to our home/office in the 7th is as reliable.
And Franck Provost has closed in the rue de Sèvres. Plus ça change, huh?